BCI Aust. Projects

PLEASE DONATE TODAY
Our Approach to Bonobo Conservation- Community-led Conservation
Given almost all bonobo habitat is shared by indigenous people, BCIA believes the best and most effective way of protecting the maximum number of bonobos is to support local communities in bonobo-rich areas by making the bonobos more valuable to them alive than dead. This involves scientific surveys to determine bonobo density and social surveys to determine community traditions, taboos and needs. Agreements are then made with local communities and NGOs to prevent hunting, logging, poaching and habitat encroachment in exchange for agreed conservation and community development assistance (training and support for anti-poaching/monitoring teams, health clinics and mosquito nets, schools and scholarships, microcredit, agriculture and transport, legal support and awareness-raising of land rights against loggers etc). Periodic evaluation and monitoring ensures this exchange continues for as long as bonobos are protected. This model has a mushrooming effect, as other communities in nearby bonobo-rich areas also seek to enter such agreements and cooperate with each other.
This bottom-up approach has succeeded in effectively preserving vast amounts (more than 40,000km2) of bonobo habitat, which we aim to connect by corridors in a linked constellation called the Bonobo Peace Forest. This contrasts to the top-down approach of large traditional environmental organisations (which typically involves having an area declared a national park, clearing local people out and then ineffectively trying to keep them (and hunters) out) which has shown very poor results, despite the large amounts of funds they receive. With this community-focused approach, we are helping bonobos by helping some of the very poorest people in the world, as well as fighting global warming by preserving the Congo Basin rainforest. Some examples-
Monitoring and Tracking Teams in the following rainforest habitats where bonobos have healthy although endangered populations: Kokolopori, Lac Tumba, Mompono, Moneika/Bokote and Lingomo.
These teams, consisting of local villagers with phenomenal tracking and bushcraft skills, form a vital conservation presence. They unobtrusively follow different bonobo groups on a daily basis, warding off poachers and helping to ensure that bonobos conservation is given a high priority by their local communities.
Funds raised go directly to equipment, training and salaries necessary to keep these teams viable. A mere $US100 is sufficient to employ one tracker for a full month. Please help.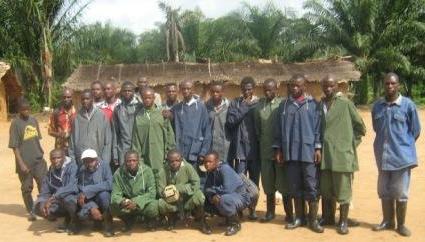 Click here for a description of bonobo trekking with the trackers.
Bonobo Health Clinic
In the bonobo-rich region of Kokolopori, around 8000 people have had almost no access to health services. Since 2006, led by BCIA Director (and Flying Doctor) Dr Luke Bennett and in partnership with the Indigo Foundation and the Kokolopori Falls Church Sister City Program, BCIA has supported the development of a health clinic there, staffed by a doctor, four nurses and 10 midwives (with more trained every year) with a particular focus on infant and maternal health and malaria bednet distribution. Two other dispensaries have been established nearby, staffed by nurses. People who don't have to worry about dying in childbirth are better able to value and support bonobo conservation. But we need your support.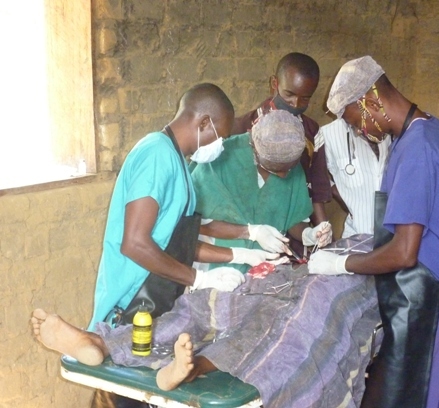 Click here for a day in the life of the Kokolopori Bonobo Health Clinic.
Click here for an account of jungle surgery at the Kokolopori Bonobo Health Clinic
PLEASE DONATE TODAY TO SUPPORT THESE PROJECTS AND HELP BONOBOS